Every wood species has its own identity. In order to select a flooring adapted to your lifestyle and to your tastes, it is important to understand the characteristics of the different species, as well as their unique qualities.
Our Species
The selection of a floor should be a choice based on aesthetic before anything else. Wood species stand out by their grain, which is the visible contrast of their growth rings. Red oak, white oak, and hickory have a distinct wood grain, giving them lots of character. Maple and birch are more discreet and display a closed grain, which gives them a uniform and soft texture.
White Oak
This species features natural colored heartwood that varies from light beige to light brown. The sapwood can be paler or greyer. The grain pattern in White Oak is quite distinct due to the difference between the appearance of the open and closed grain. Classic oak patterning, including cathedral peaks, will be predominant in the Excel grade while vertical linear grain will rule the R&Q Excel grade. Classic grain will be predominant in Live Sawn Character grade and vertical grain will also be accepted.
Red Oak
This species delivers the classic hardwood look prevalent in turn of the century homes. Red Oak's heartwood is prized for its predominantly golden and reddish tones, whereas the sapwood will generally be composed of lighter colored boards or boards of a different hue. Different types of interesting grain patterns such as cathedral peaks and linear grain are showcased by the alternating open and closed graining of the wood.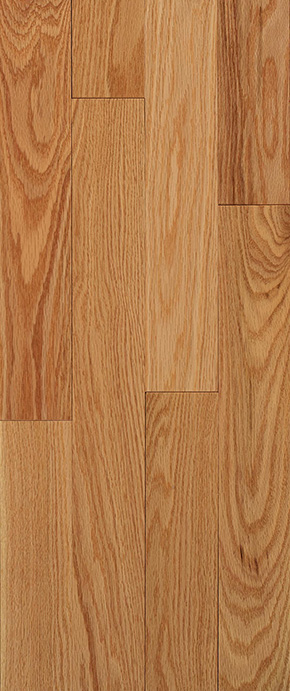 Hard Maple
This species is primarily known for the tight, even graining of its light colored sapwood, which ranges in color from cream to white with light yellow or red casts depending on the season during which it was sawn. Maple's heartwood is of a medium brown color and will contrast pleasantly with the sapwood in the grades that feature it. Maple can exhibit certain grain chracteristics such as ripple grain and bird's eye. Hard Maple is also known to some people as Sugar Maple.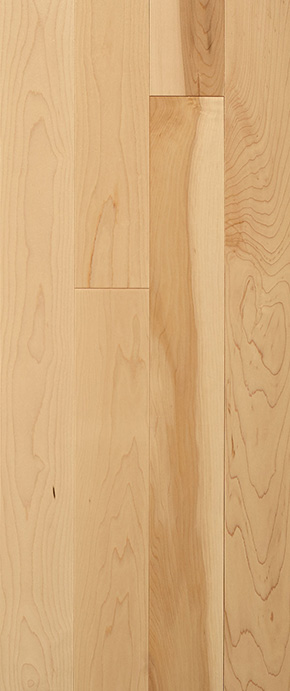 Hickory
This species showcases the most extreme color variations of any of the species we carry. The sapwood is generally of an off-white color that can have pink or yellow undertones. The heartwood is of a dark or medium brown. Hickory's grain pattern varies greatly from one board to the next, making for a very lively looking floor. Hickory is considerably denser than Red Oak and Maple, which makes it an excellent floor for high traffic areas.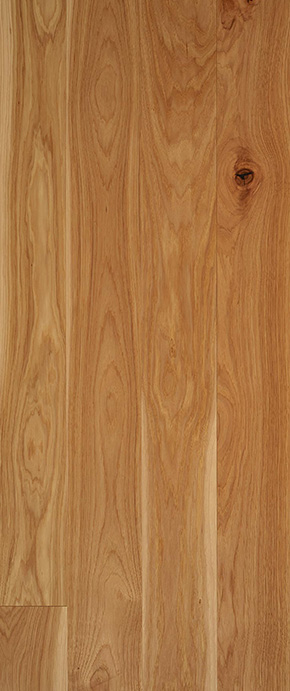 Birch
This species is well known for the cheerful coloration of its light colored sapwood which contrasts beautifully with the reddish brown coloration of the heartwood (which is sometimes known as red birch). Yellow Birch can feature spectacular grain patterning, such as ribbon grain and fiddle-back. Yellow Birch is much harder than White Birch; however it remains softer than Red Oak and Maple.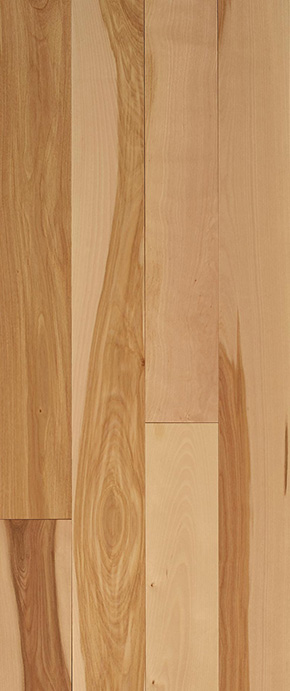 Wood hardness
The Janka hardness test measures the force required to embed a 0.444 inch (11.28mm) steel ball into the wood by half its diameter. The result of this test is one of the best measures of the ability of a wood species to withstand different forms of wear and denting, which is determined by the density of the fibers of each species.
This is why there are several important variables to consider when you are planning to buy hardwood flooring. Color and look are important, but you must also consider wood grain, stability, and hardness.